MSI MEG Z490 GODLIKE
MEG Z490 GODLIKE
OUTSTANDING COOLING SOLUTION
Frozr Heatsink Design with Zero Frozr TechnologyExclusive to MEG class Z490 models, an active cooling design is ready to spin up when the VRM is loaded with power.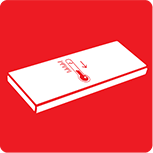 MOSFET BaseplateMOSFET backplates are constructed from solid metal for heat dissipation.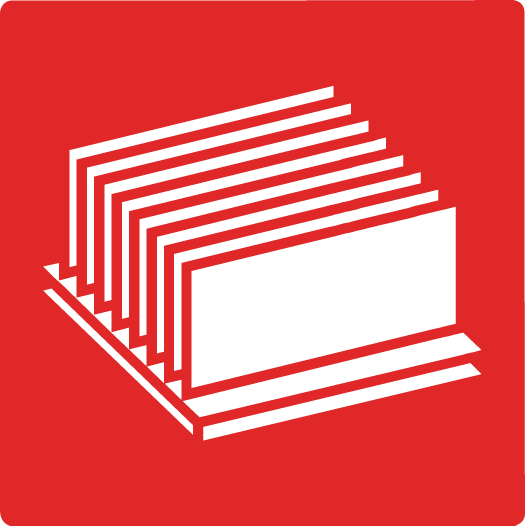 Stacked Fin Array with 7W/mK Thermal PadThe stacked fin array has increased surface for heat dissipation. A 7W/mK thermal pad provides better heat transfer to the heatsink.
Heat-pipeConnects the two MOS heatsinks to enlarge the heat dissipation surface.
Double Side M.2 Shield FrozrSustain maximum high-speed M.2 SSD data transfer with M.2 SHIELD FROZR and prevent SSD thermal throttling with a double-sided sandwiching thermal design.
MEG Z490 GODLIKE
UNLIMITED CONNECTIVITY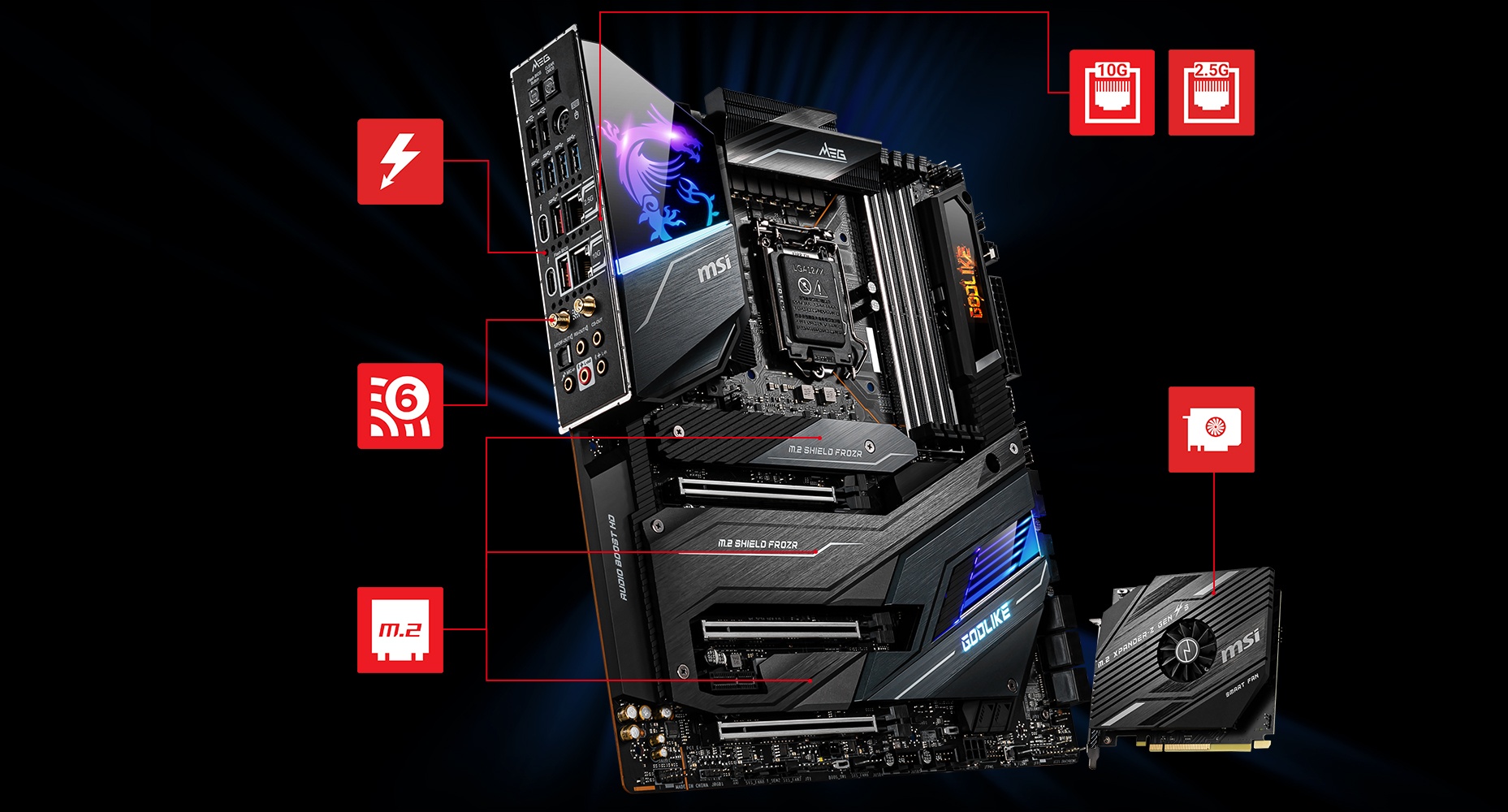 Dual Thunderbolt™ 3 portsConnect Thunderbolt devices via USB Type-C and transfer at speeds up to 40 Gb/s.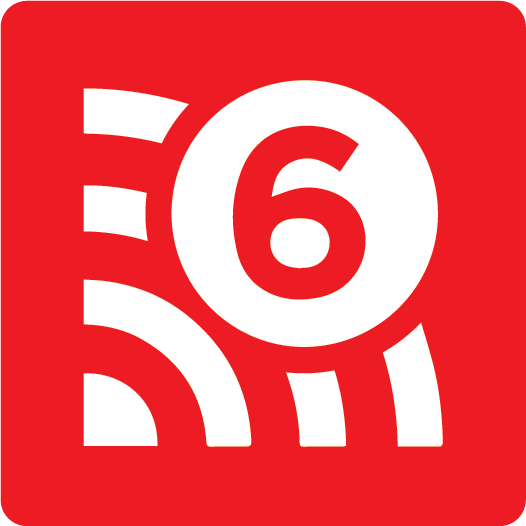 Wi-Fi 6Featuring the latest wireless solution, delivering speeds up to 2400Mbps and supports MU-MIMO and BSS color technology.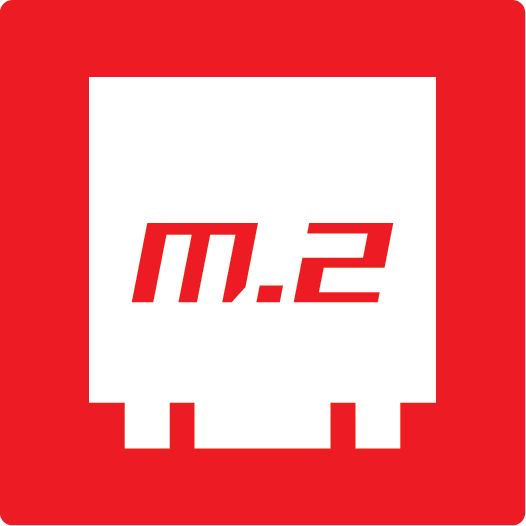 Triple Turbo M.2 Connectors3 x M.2 slots running at PCI-E Gen3 x4 bandwidth for ultra-fast NVMe based SSDs.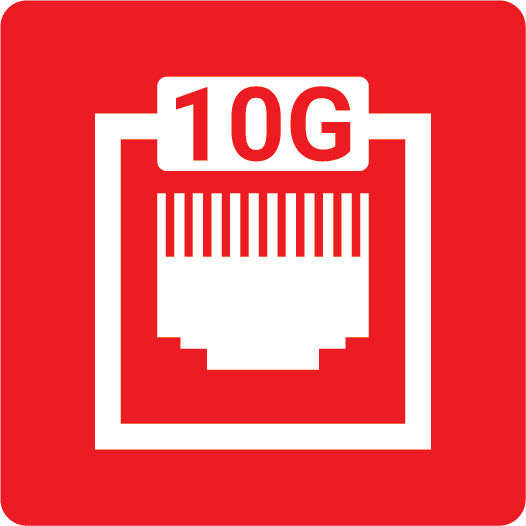 10G Super LAN + 2.5G LANOnboard 10G Super LAN, 2.5G LAN, and Wi-Fi 6 deliver responsive online experiences without lag.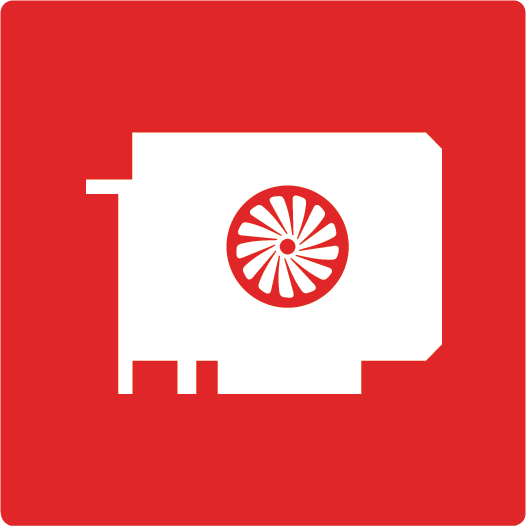 M.2 XPANDER-Z GEN4 SAdd two extra M.2 slots for ultra-fast SSDs and sustain maximum transfer speeds with the smart fan cooling design.
MEG Z490 GODLIKE
STABLE CORNERSTONE OF YOUR SYSTEM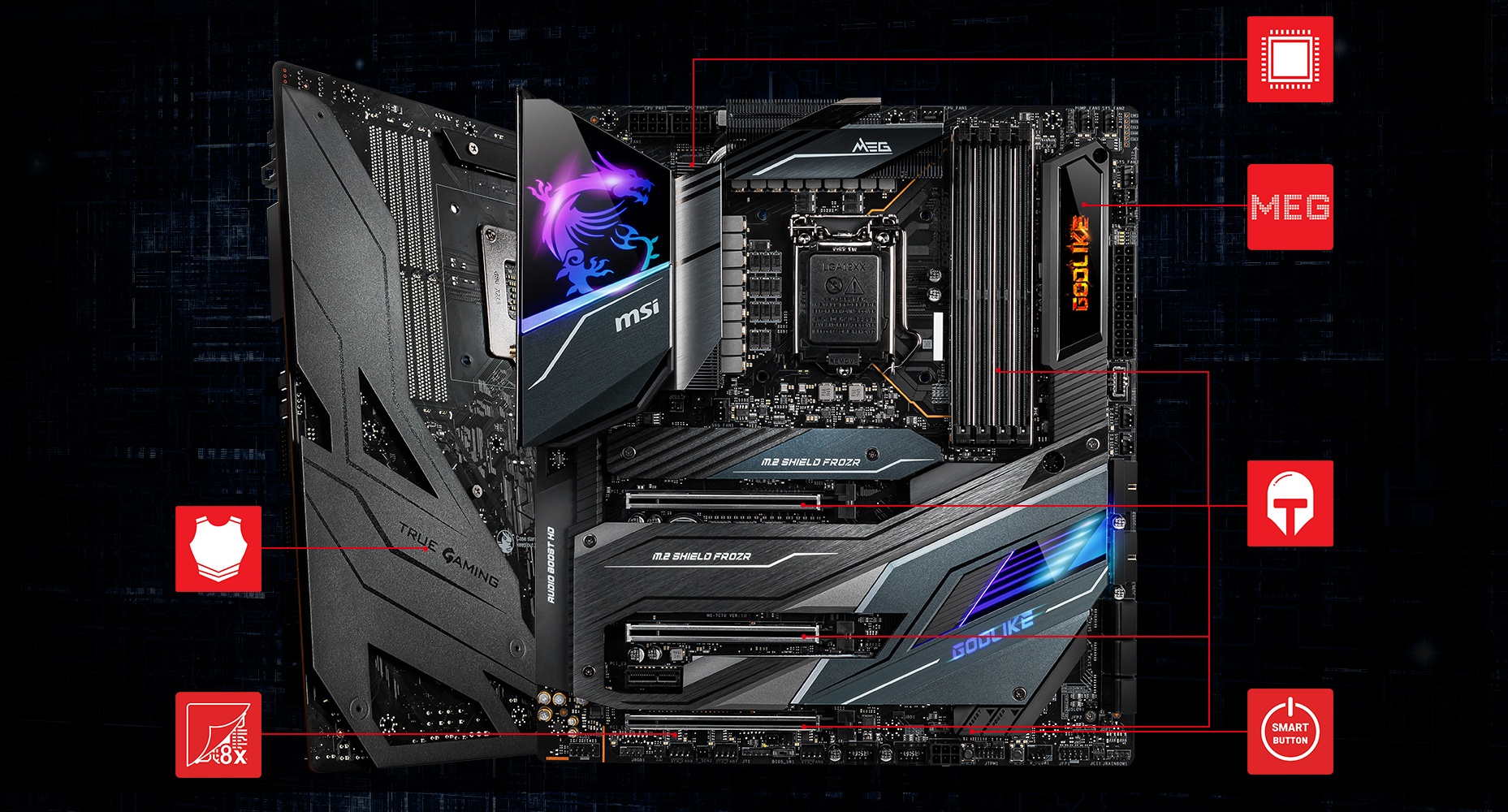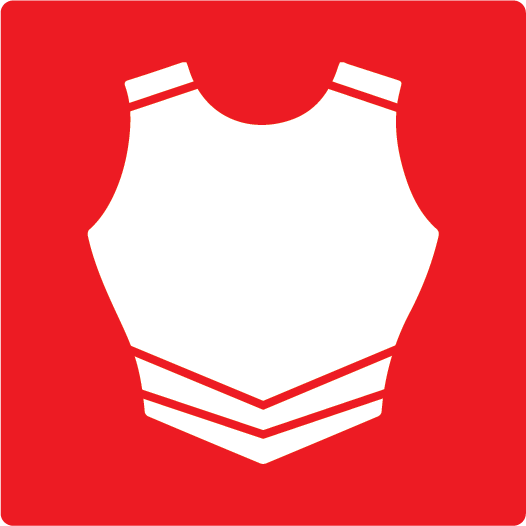 Chest PlateA rigid black metal backplate reinforces the motherboard against bending and twisting.
8-Layer PCB Design8 layer PCB improves signal transmission for extreme performance capabilities across the motherboard.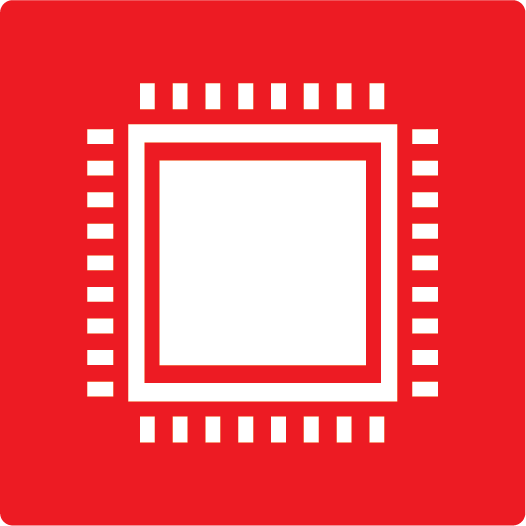 ISL Digital PWM, 16 Phases with 90A SPSGODLIKE is built with 16 phases of 90A smart power stages to reliably drive the CPU during heavy workloads.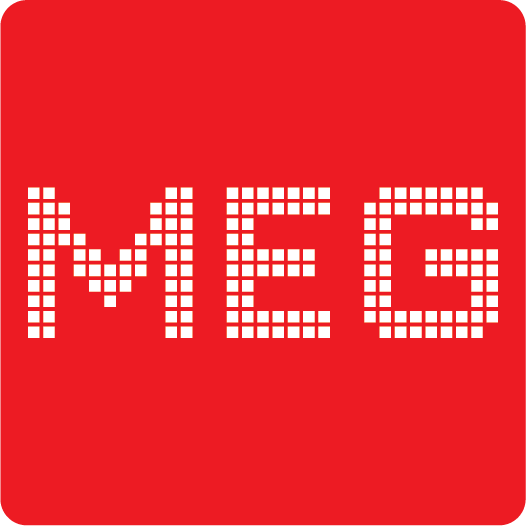 Dynamic Dashboard IIA dynamic OLED screen panel can display the status of the GODLIKE motherboard and more.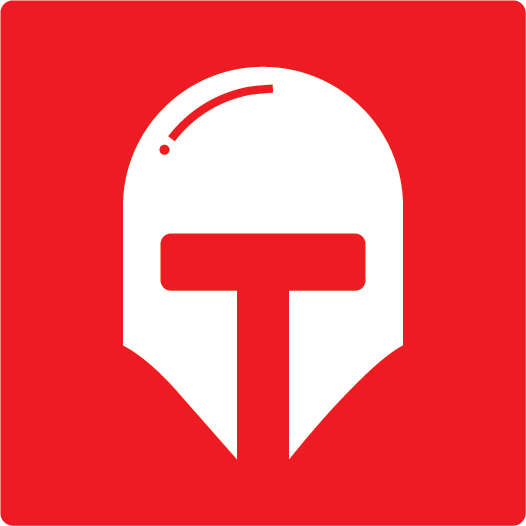 DDR4 Steel Armor & PCIe Steel ArmorReinforced and shielded slots for strength and protecting the point of connection from interference.
Smart ButtonOnboard power and reset buttons.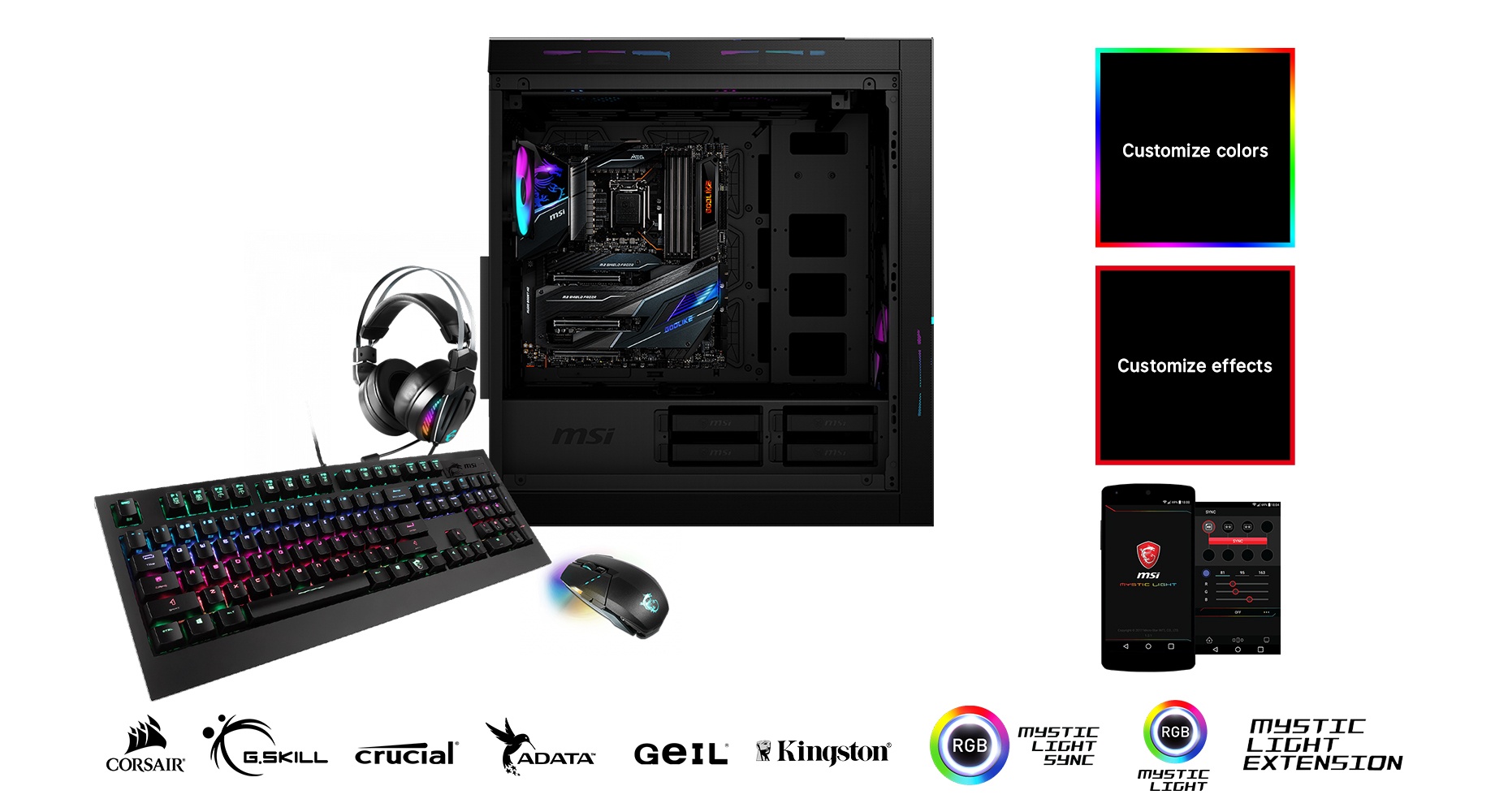 CUSTOMIZE YOUR GAMING RIG
Personalize your PC with RGB LED lighting capable of 16.8 million colors with dynamic effects through the Mystic Light APP.
Customize colors
Customize effects
DYNAMIC DASHBOARD II
GODLIKE features a dynamic OLED screen panel that can display the status of the GODLIKE motherboard – view a hardware monitor, read debug codes, and find other useful information. Furthermore, you can customize the display with GIF animations.
THERMAL SOLUTION FOR HIGH PERFORMANCE MULTI CORE PROCESSORS
Stacked Fin Array, VRM Heatpipe, Frozr Heatsink, and MOSFET Baseplate keep temperatures in check and let the CPU power delivery system sustain extreme performance.
TRIPLE TURBO M.2 WITH SHIELD FROZR
Sustain maximum M.2 SSD data transfer with M.2 SHIELD FROZR. Prevent SSD thermal throttling with a double-sided sandwiching thermal design that includes a heatsink that extends across the motherboard.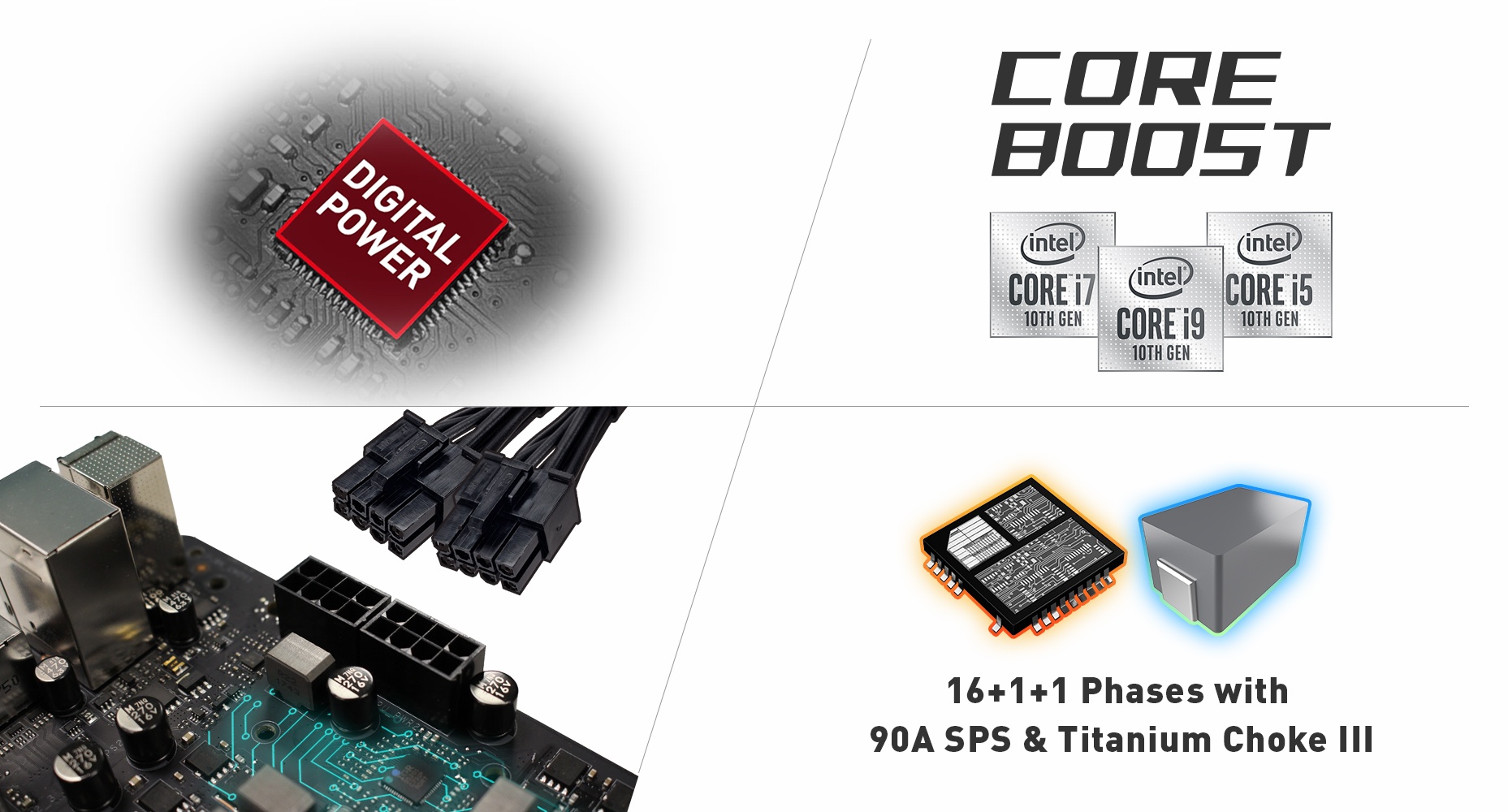 EXTREME POWER DESIGN
The power delivery system on MEG Z490 GODLIKE is built with an ISL Digital PWM, 16+1+1 phases with 90A Smart Power Stages, and dual CPU power connectors. Exclusive to MEG class models is Mirrored Power Arrangement on the Vcore phases for releasing true power.
ONBOARD THUNDERBOLT™ 3 PORTS
Two Thunderbolt 3 Type-C ports on GODLIKE each deliver unprecedented interface bandwidth speeds up to 40Gbp and support for up to six daisy-chained devices. Additionally, built in DisplayPort 1.4 output allows for compatible display devices to be attached.
CHEST PLATE
MEG Z490 GODLIKE features a rigid metal backplate that reinforces the motherboard's edges along the connectors, preventing bending and twisting during installation that could potentially damage or dislodge surface mounted components.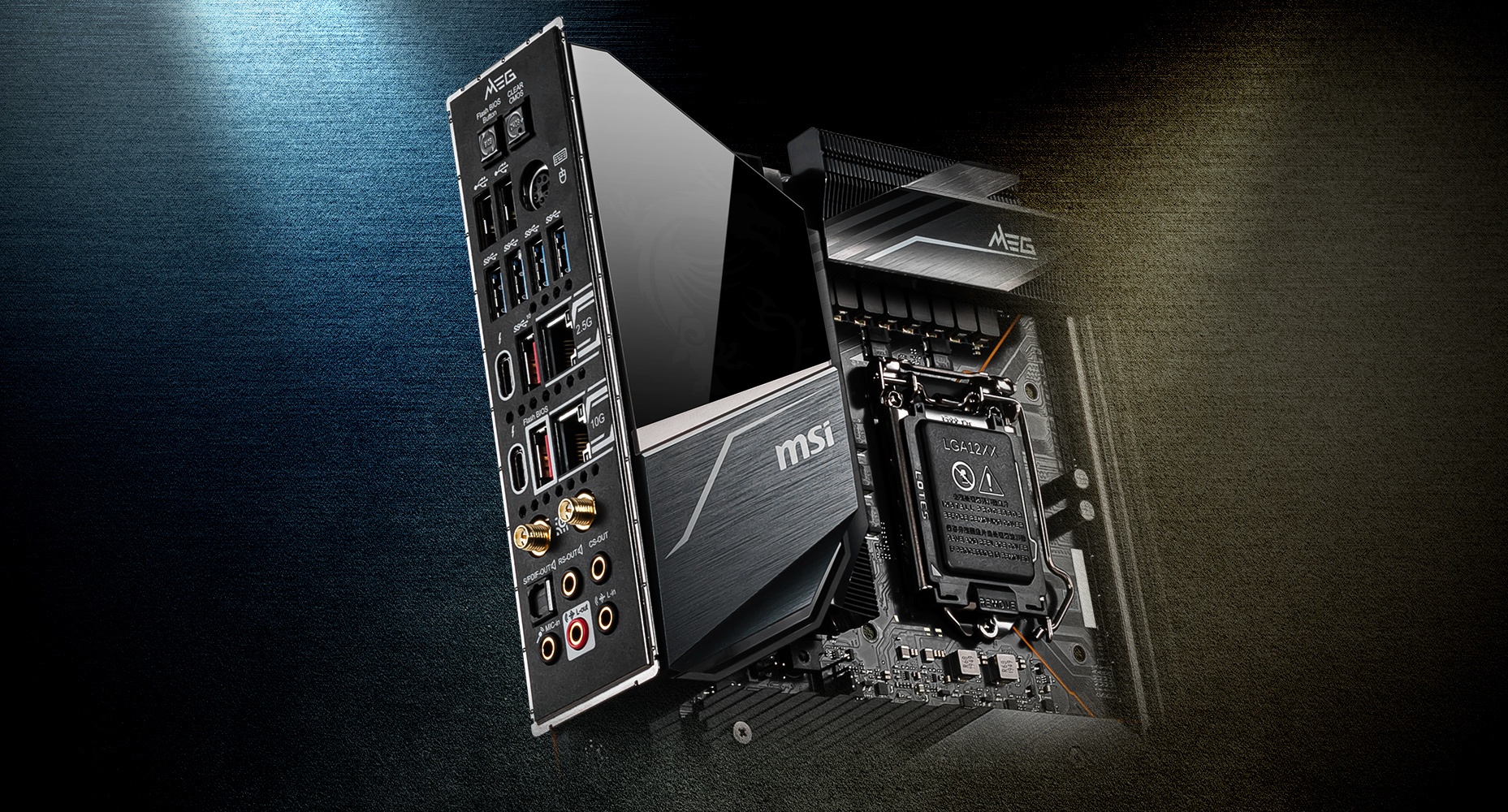 PRE-INSTALLED IO SHIELDING
Pre-Installed IO Shielding makes handling the motherboard process easier and safer. The patent-pending design is grounded and protects the IO ports from potential electrostatic discharge damage from the external environment.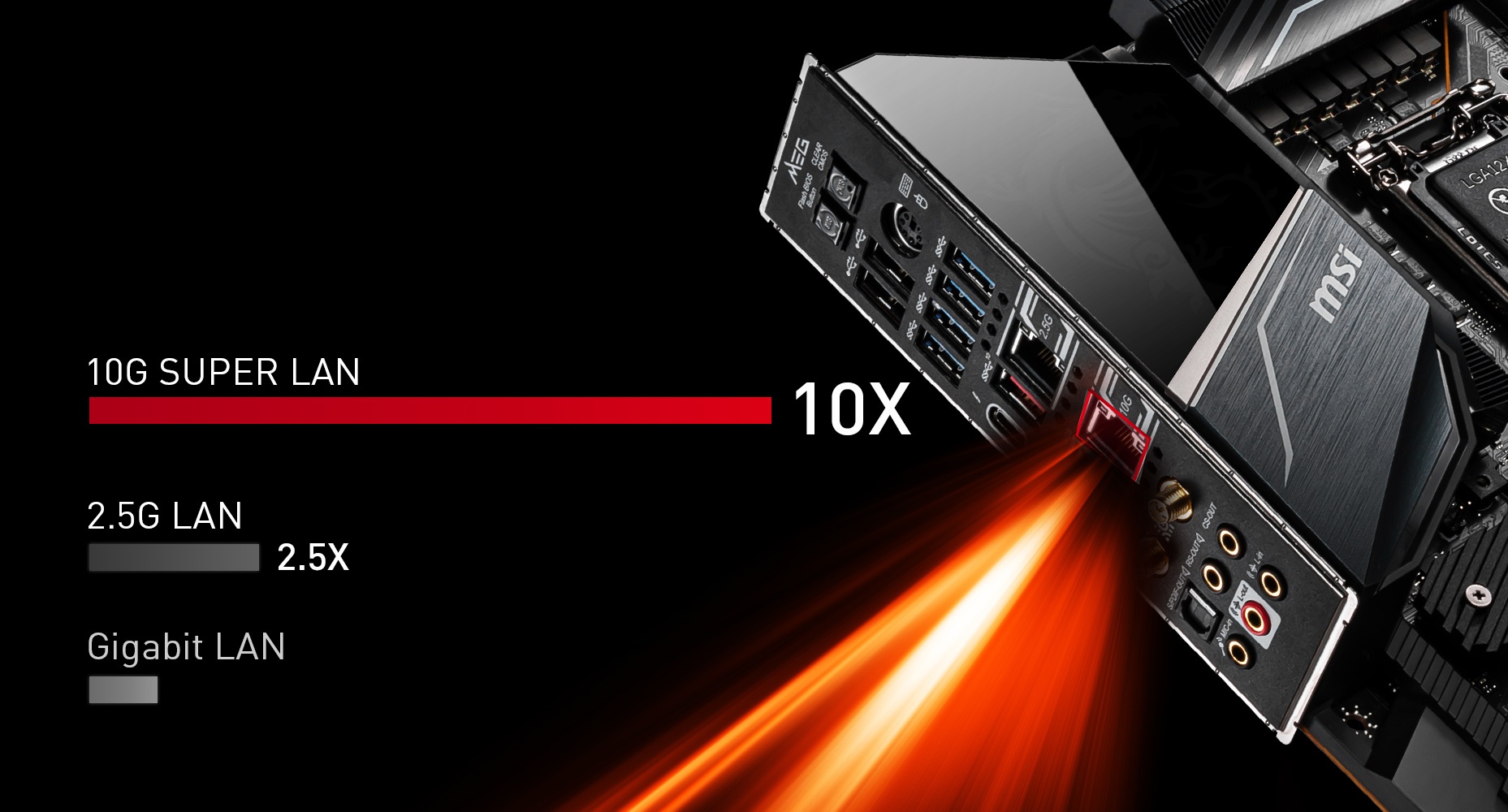 10G SUPER LAN + 2.5G LAN
Crush enemies on the battlefield with MSI LAN Manager. Onboard 10G Super LAN, 2.5G LAN, and Wi-Fi 6 deliver responsive online experiences without lag. Work faster to play sooner with increased bandwidth to quickly transfer 4K video, raw images, and other large files.
WI-FI 6 & BLUETOOTH
Connect to a high-speed WIFI 6 network with onboard Wi-Fi 6. OFDMA and two-way MU-MIMO technology optimize data transmission and deliver speeds up to 2.4Gbps.
UNMATCHED MEMORY PERFORMANCE
MSI takes memory stability and performance to the extreme. The memory circuit layout has been optimized for reliability and tested extensively in partnership with major memory manufacturers for compatibility.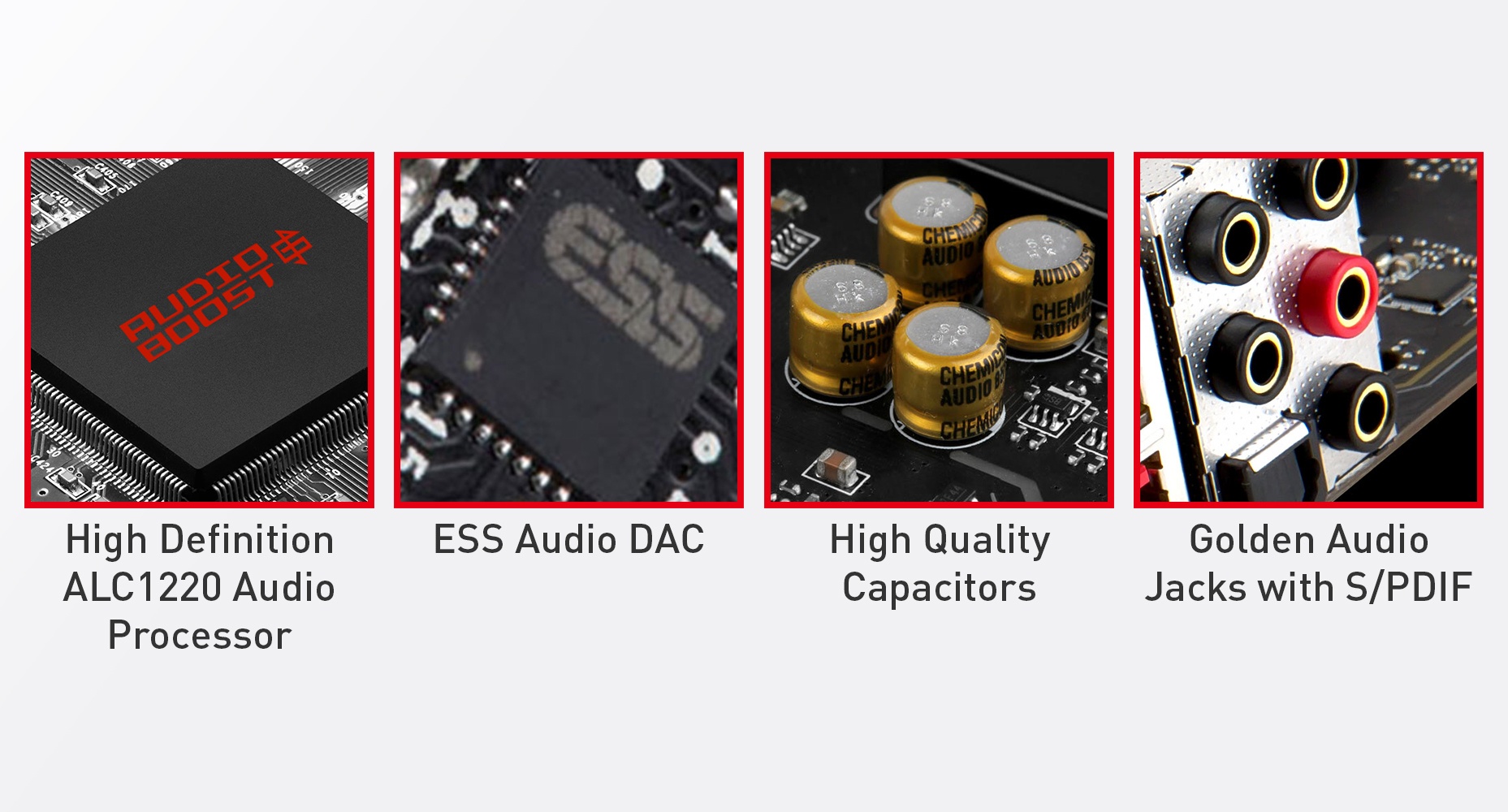 AUDIO BOOST HD
A dedicated audio processor, ESS audio DAC, and headphone amplifier have been integrated into isolated audio circuitry to output game-changing studio grade sound.
MULTIPLE GPU SUPPORT AND PCI-E STEEL ARMOR
MEG Z490 GODLIKE supports both NVIDIA® SLI™ and AMD® CrossFire™ multi GPU technologies. PCI-E slot placements provide optimal airflow for graphics card cooling. MSI PCI Express Steel Armor slots are secured to the motherboard with extra solder points and support the weight of heavy graphics cards. When every advantage counts, Steel Armor shields the point of contact from electromagnetic interference.
$900.00
Description
Additional information
| | |
| --- | --- |
| Motherboard Brand | GIGABYTE |
| Socket Type | LGA1151 |
| Motherboard Size | ATX |
| RAM Type | DDR4 |
Only logged in customers who have purchased this product may leave a review.