Maximum PC Staff
– (Gordon Ung) –
Dec 20, 2012
STEALTH MACHINES ESPIONAGE
AT A GLANCE
F-22
Lethal combo of Ivy Bridge and SLI 660 Ti cards.
F-105
Expensive; not as quiet as youd expect from a company named Stealth.
A machine that will still have support in 2022?
You may not have heard about PC builder Stealth Machines , but apparently that's the way the company likes it. In fact, the company's web page proclaims that it's the "underground computer company of the hardcore gamer." We'd guess that's the "stealth" part of the name.
So color us surprised when the Stealth Machines Espionage arrived and it wasn't matte black and sporting that new ECS Stealth motherboard .
The Espionage isn't extreme, but it's nicely outfitted. Built around an EVGA Z77 FTW board, it packs a 3.4GHz Core i7-3770K overclocked to 4.68GHz. All four DIMM slots are packed with Mushkin DDR3/2133. For a gamer, the most important component is the graphics card. In this case, it's the graphics cards—plural. Stealth Machines held out until the last minute to score a pair of EVGA GeForce GTX 660 Ti cards.
We're not fans of the LED strips on the power cables, but you might like the colorful addition.
Would it make more sense to run a single GeForce GTX 680 instead? We think there's no easy answer to that question. Our general philosophy is to run the single fastest GPU you can afford, since it will give you performance in every game from day one rather than having to wait for SLI or CrossFireX profiles. We think the 660 Ti might be an exception to that rule. Basically, the 660 Ti duo will smoke a single GTX 680 card in most games and came surprisingly close to the performance of our zero-point rig's GTX 690 . Part of that is the result of the Stealth's overclocked Ivy Bridge CPU, but it's a shocker to see this PC just 16 percent slower than our zero-point in Batman: Arkham City and 11 percent slower in 3DMark 11 .
Lest you cheapskates scoff at the GeForce GTX 690, we'd be remiss if we didn't point out that our zero-point hammers out 55.5fps in the tessellation-heavy Heaven 3.0 benchmark while the Stealth is way back at 38.3fps. That's almost a 30 percent difference—so there is a point to the heavy metal sometimes.
Elsewhere, the Espionage aces the zero-point in Stitch.FX 2.0 and ProShow Producer 5.0 . Neither benchmark exploits the six cores in our zero-point, but the ZP gets payback in Premiere Pro CS6 and x264 5.0, which can eat all the cores you throw at 'em.
In the end, the Espionage is a pretty nice gaming rig and has plenty of power for content creation, too. But we can't publish this review without some criticism. First, we'd probably opt for a pair of 8GB DIMMs rather than four 4GB sticks, to allow for future upgrades. We also had a small snag in the overclock, as one core failed during a Prime95 test. Stealth had us add voltage to the core and all was well. Our final criticism, though, is the price. The machine, while fast for its class, is also awfully expensive for its class. As a comparison, our Ultra rig is just $140 more expensive with a hexa-core CPU, GTX 690, 3TB drive, Cosmos II case , and an LGA2011 board.
Stealth argues that much of its value comes from the warranty it's willing to put on the line: 10 years. That's indeed one of the longer warranties available on a modern PC, but we're not sure we're really going to care about any PC we buy in 2012 in 2022. Still, we can't argue with the performance; it just doesn't offer the price-to-performance ratio we expected.
Specifications
| | |
| --- | --- |
| Processor | Intel Core i7-3770K@4.6GHz |
| Mobo | EVGA Z77 FTW |
| RAM | 16GB DDR3/2133 |
| Videocard | EVGA GeForce GTX 670 in SLI |
| Soundcard | Onboard |
| Storage | 240GB Mushkin Chronos SSD, 2TB WD Caviar Black |
| Optical | Lite-On DVD+RW |
| Case/PSU | NZXT Switch 810 Corsair HX1050 |
Benchmarks
Zero-Point
Premiere Pro CS6 (sec)
2,000
2,520

 

(-21%)

Stitch.Efx

 

2.0 (sec)
831
730
ProShow Producer 5.0 (sec)
1,446
1,268
x264 HD 5.0 (fps)
21.1
17.9

 

(-15%)
Batman: Arkham City (fps)
76.0
64.0

 

(-16%)
3DMark 11
5,847
5,187

 

(-11%)
Our current desktop test bed consists of a hexa-core 3.2GHz Core i7-3930K 3.8GHz, 8GB of Corsair DDR3/1600, on an Asus Sabertooth X79 motherboard. We are running a GeForce GTX 690, an OCZ Vertex 3 SSD, and 64-bit Windows 7 Professional.

Stealth Machines Espionage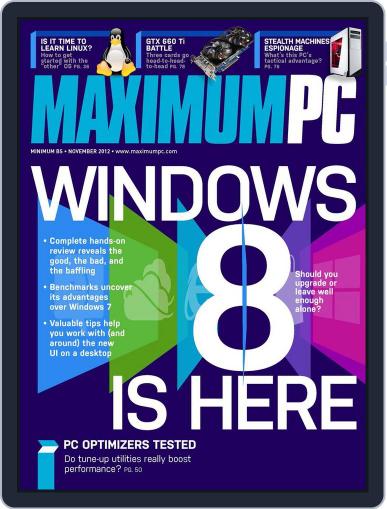 https://web.archive.org/web/20150912052552/http://www.maximumpc.com/stealth-machines-espionage-review2022/
Read the original article (digital) – https://www.discountmags.com/au/magazine/maximum-pc-september-25-2012-digital